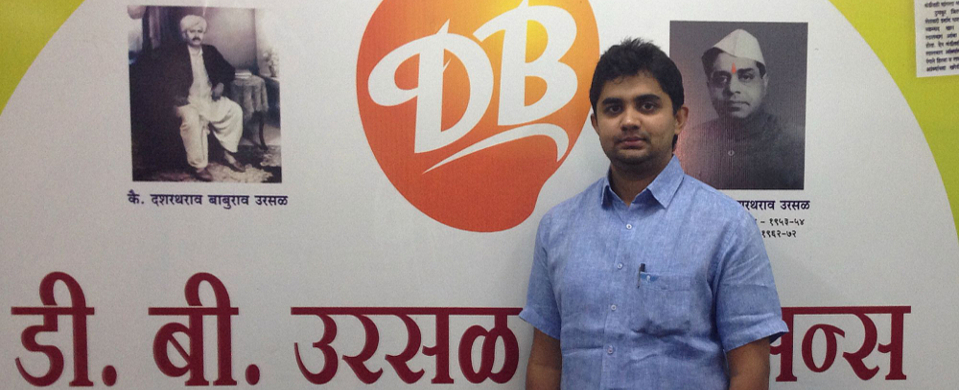 D.B Ursal & Sons
Late Mr. Dashrath Baburao Ursal was the founder of M/s D.B Ursal & Sons operating in Pune city, Maharashtra State, India. The story of D.B Ursal starts from the early 19th century when high unemployment was residing in India, which was reeling under the British rule. Mr. Dashrathrao Ursal braving all odds left his native village of Singhapur, in Purander Taluka, and came to Pune city along with his Mother.
When he came to Pune to earn a livelihood, he started selling fruits by roaming around at several places with the fruit basket on his head. It is truly said that, "As you sow, so shall you Reap". Mr. Dashrathrao braving all odds stood up on his own feet and a street vendor became a Fruits Commission Agent in the prestigious Mahatma Phule Market of Pune. Dedication, hard work and path of truth have always been the words associated with D.B Ursal & Sons.
At the age of 20, Dashrathrao's son Late Mr. Shankarao Ursal entered the business with his brother late Mr. Kisanrao Ursal. Mr. Shankarao Ursal was a great politician, a person who always commanded respect from the society. He was also the pioneer in relocating of the market place from Mahatma Phule Market to Shri Chhatrapati Shivaji Market Yard at Gultekdi, Pune. He used to always tell his children that,'' Whenever you have your bread, don't think that the whole bread belongs to you. Half of the bread belongs to the farmer to gets his produce to your shop.'' Such wise words truly define what commitment M/s D.B Ursal & Sons has towards the welfare of the farmers and the society.

Mr. Shankarao Ursal was the youngest Mayor (at the age of 27) of Pune city when he was studying law. He was also the first mayor of the Congress Party in Pune city & also had the honour of being the first President of Zilla Parishad for a period of 10 years in a row. He is the only person in politics of Pune to have held the two prestigious positions of being a Mayor and the honourable President of Zilla Parishad.
In the year 1975-77, Shankarao's sons Mr. Dilip and Mr. Satish entered the business after completing their graduation. Late Mr. Dilip S. Ursal was known as a strict person who would never tolerate any unjust behaviour in business and life. He with his firm voice and a straight forward attitude used to handle the sales for the business. Mr. Satish S. Ursal a commerce graduate possess exceptional skills of planning due to which he is a great visionary. Because of his exceptional skills of planning the Ursal family could brave all the odds in life and business. Dedication and punctuality are a mirror image of his personality, who always believes that one should selflessly work for the welfare of society without expecting any returns.
Mr. Satish Ursal is still working endlessly towards human welfare. He has won many hearts just because of his dedication towards work and various activities that he undertakes for the welfare of the society. He is also currently working with various educational groups and universities for public welfare.
Mr. Satish Ursal's son, Mr Rohan is the one who now has taken the baton from his Dad. Rohan entered the business at the age of 20 and that was the beginning of the fourth generation into the business for M/s D.B Ursal & Sons. Mr Rohan graduated in Bachelor of Business Administration (BBA) and went on to complete his Master of Business Administration (MBA), both as a distinction holder. D.B Ursal and Sons today is set to make a global presence and diversification in business under the leadership of Mr. Rohan Ursal, who has a great supporting hand of his Father Mr. Satish Ursal behind him.
D.B Ursal & Sons is looking forward to serving the customers with best products and top notch service with utmost dedication, commitment and sincerity by walking on the way of truth and transparency.